The Violence Intervention and Prevention (VIP) program is a great way to learn how to recognize the warning signs of sexual violence, what you can do to respond and stop it if you see it occurring, and how you can change the culture that makes these crimes acceptable!
All incoming students are required to attend at least one Sexual Violence Prevention Training. At other institutions, you can expect a boring online module filled with generic examples and fake interactivity. You won't find any vaguely human-like robot narrators at UC Merced! All our VIPs are in-person, online via zoom, fun, and interactive! To register visit our calendar page and pick the date/time that works for you!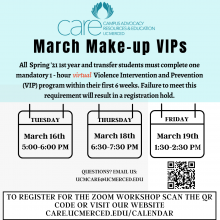 Our VIPs include:
Bad Ads

Learn how the advertisements around us contribute to rape culture by analyzing ads and talking to your peers about the impacts of seeing violence around us..

Miro y Vivo (bilingual)

Spanish speakers, come ready to discuss some of your favorite telenovelas! Learn to recognize how telenovelas influence the Latinx community, how they create a rape culture, and how to be a social agent consumer

What's Your Media Feeding You?

Learn about how the media portrays healthy and unhealthy relationships. Find out if you're getting a balanced diet!

OMG Quit Insta Lurking!

Our society normalizes and romanticizes stalking. Learn what you can do to stop it and create a society that fights back by re-evaluating everyday behaviors!
Students that do not fulfill their requirement may face consequences, including a Dean of Students Hold on their class registration. So don't wait! Attend a VIP and learn how you help prevent sexual violence in our communities!
If you have questions, email us at ucmcare@ucmerced.edu. We will respond within 1-2 business days. 
Please do not contact the Campus Advocate. 
VIP Alternative Option: Deadline Extended until March 31st, 2021
EverFi Sexual Violence Prevention: Undergraduate
This online Title IX and Clery Act training engages undergraduate students in fostering healthy relationships and preparing them to recognize and respond to sexual assault and harassment when it occurs. 
You can find the information about the online module in your student email, it was sent out on November 2nd, 2020. To help find the email you can search "EVERFI" or (automated-message@everfi-foundry.net) .