The VIP sessions for Thursday, November 15th and Friday, November 16th are cancelled due to the campus clousure. Students will be notified by Tuesday, November 20th on at least 2 other alternative dates.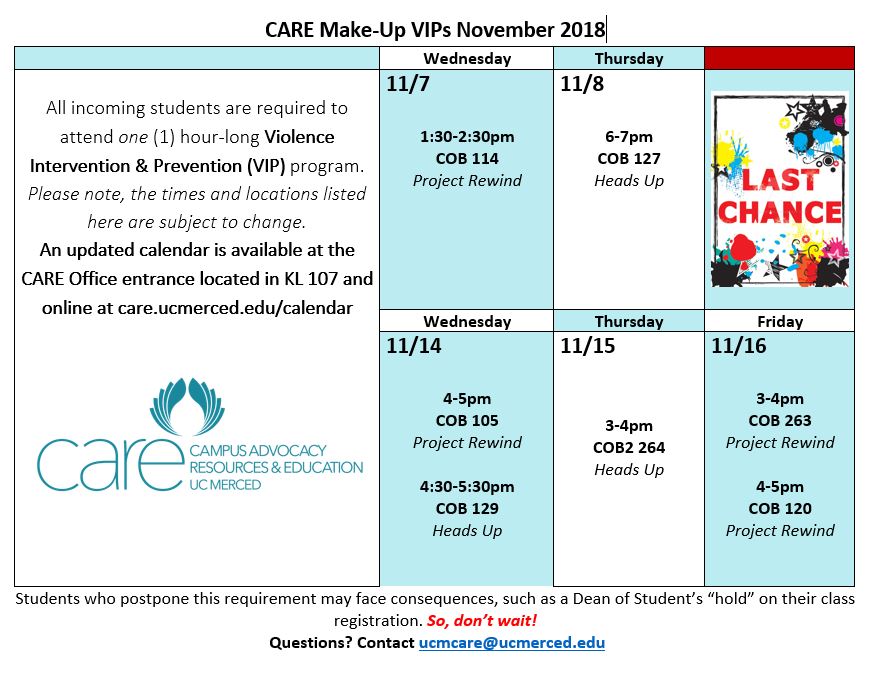 The Violence Intervention and Prevention program is a great way to learn to recognize the warning signs of sexual violence, what you can do to respond and stop it if you see it occurring, and how you can change the culture that makes these crimes acceptable!
All incoming students are required to attend at least one Sexual Violence Prevention Training. At other institutions, you can expect a boring online module filled with generic examples and fake interactivity. You won't find any vaguely human-like robot narrators at UC Merced! All our VIPs are in-person, fun, and Interactive!
Our VIPs include:
Heads Up!

Are you in it to win it? Play our version of Ellen's favorite game by giving each other clues to guess violence prevention topics!

Bad Ads

Learn how the advertisements around us contribute to rape culture by playing Bad Ads Bingo! Analyze ads and talk to your peers about the impacts of seeing violence around us, on TV, and in movies.

Miro y Vivo (bilingual)

Come ready to discuss some of your favorite telenovelas! Learn to recognize how telenovelas influence the Latinx community, how they create a rape culture, and how to be a social agent consumer

Project Rewind

Ever wish you could reverse time and do something differently? Here's your chance! Learn how to safely step in and speak up against sexual violence, domestic violence, and stalking.

Speak Out!

Cartoons aren't just for kids anymore! Learn what one of today's most popular cartoons cna teach us about gender roles and consent.

What's Your Media Feeding You?

Learn about how the media portrays healthy and unhealthy relationships. Find out if you're getting a balanced diet!

OMG Quit FB Lurking!

Our society normalizes and romanticizes stalking. Learn what you can do to stop it and create a society that fights back by evaluating everyday behaviors!

Rainbow of Violence

LGBTQ+ people face unique challenges when it comes to sexual violence. Learn the differences sexual orientation can make in sexual violence and healing! Allies welcome!
Students that do not fulfill their requirement may face consequences, including a Dean of Students Hold on their class registration. So don't wait! Attend a VIP and learn how you help prevent sexual violence in our communities!
Make-up VIP sessions will be offered in Nov.  Look out for dates in the next few weeks.