October 17, 2022 -

2:00pm

to

4:00pm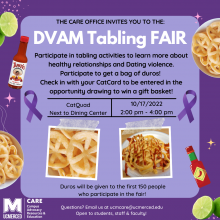 The CARE office invites you to the Domestic Violence Awareness Month Learning Fair to learn more about healthy relationships and dating violence. Join us at the Cat Quad, next to the Yablokoff-Wallace Dining Center, on October 17th, 2022 from 2:00pm to 4:00pm. Participants will get a free bag of Duros!
Visual Description: A purple background with pictures of Duros bag and hot sauce all around. It reads the following: "The CARE Office Invites you to the Dvam Tabling Fair, Participate in tabling activities to learn more about healthy relationships and Dating violence. Participate get a bag of duros! Check-in with your CatCard to be entered in the opportunity drawing to win a gift basket!"
In the middle of the flier, it states the location as CatQuad (Next to the dining center), on 10/17/2022  from 2:00 pm to 4:00 pm. On each side of the table, there are purple ribbons. Under that, there are two pictures of duros. bellow it reads "Duros will be given to the first 150 people who participate in the fair!".
At the bottom, it says "Questions? Email us at ucmcare@ucmerced.edu Open to students, staff & faculty! " And the CARE logo is on the left and a lime picture on the right.
Contact us at u c m CARE at u c Merced dot e d u