October 7, 2022 -

3:00pm

to

4:00pm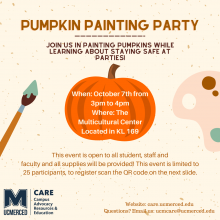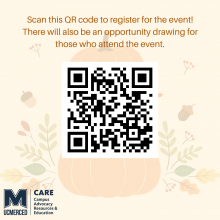 Join the CARE Office for a special event at the Multicultural Center to paint pumpkins and relax on Friday, October 7th from 3:00pm to 4:00pm. All students, staff, and faculty of UC Merced are invited to attend, and all materials will be provided. This event is limited to 25 participants, and UC Merced community members can register by scanning the flyer QR code.
Visual description: 
Slide 1: beige background with a pumpkin in the center, a painting palette on the right side, and a paintbrush on the left. Care logo on the bottom left hand side.
Slide 2: beige background with QR code in the middle
Text description: pumpkin painting party. Join us in painting pumpkins while learning about staying safe at parties! When? October Seventh from three pm to four pm. Where? At the multicultural center (Kolligian Library 169). This event is open to all students, staff, and faculty and all supplies will be provided. This event is limited to twenty-five participants, to register scan the QR code on the next slide. Questions can be emailed to U C M care at U C Merced dot E D U .